Nominations for the Eagle Project of the Year Award are due by Midnight on January 31, 2023. Nominations can be submitted online using the form on the award page. This award is recognizing Eagles who completed their board of review in 2022, regardless of when they completed their Eagle Scout Service Project.
The National Eagle Scout Association established the Glenn A. and Melinda W. Adams National Eagle Scout Service Project of the Year award (ESSPY) to recognize valuable service of an exceptional nature by an Eagle Scout candidate to a religious institution, a school, community, or other entity through completion of an Eagle Scout project.
The selection of recipients begins at the local level and is conducted through the Golden Gate Area NESA. The council's committee will select a recipient from the submitted nominations. After making their selection, GGAC NESA will pass their winner on to National Service Territory 3 for territory consideration.
The 2022 GGAC recipient of the ESSPY was Apara Sai Jella (2021, National ESSPY) from Troop 36G in the Meridian district. Her project went on to win the National Service Territory 3 and National Eagle Service Project of the Year award, becoming the first female national winner. You can read more about her project by visiting the article from On Scouting, 2022 Eagle Scout Project of the Year: She built a playground, meditation area for women's rehab center.
"My Eagle project was transforming the backyard space of Project Pride, a women's rehabilitation center, from an unused area to a relaxing, fun space to help the women through their recovery. This project will be very helpful to the beneficiary, Project Pride, because this area will give women in rehab time with their children in a fun, yet peaceful setting. To help in substance abuse recovery and for the women and children to spend time together, the project consisted of two parts, the "Children's Area" and the "Women's Area." In the children's area, we assembled and built a playground, placed rubber tiles for safety, painted a racetrack and hopscotch, and painted a lively mural. In the women's area, we planted a garden, laid sod(grass), and created a circular "meditation" area lined with wall blocks and filled with pebbles. We built and painted benches to put throughout the backyard."

Apara Sai Jella's Project Summary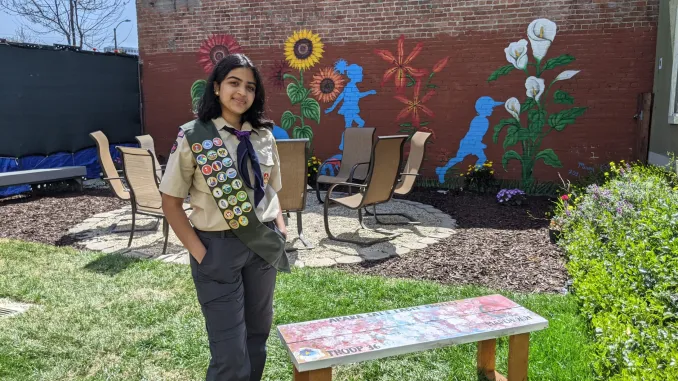 Please visit the Adams Eagle Scout Service Project of the Year award page to learn more about the award or view the council's previous awareness.